features
Customer Recruitment
Would you like a fast, simple way to reach out to your loyal customers and ask them to write reviews? eRepManager allows you to send emails to your customers pointing them to popular review sites where they can post favorable reviews about your business.
Most customers only take the time to write reviews when they are unhappy, which can unfairly hurt your reputation. eRepManager allows you to overcome this by generating a windfall of positive reviews.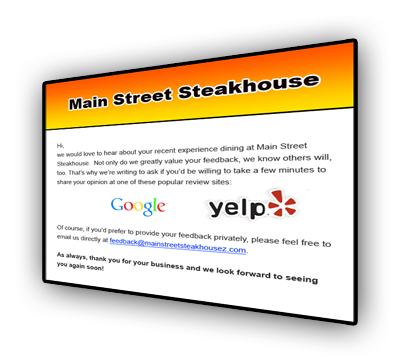 Key Features:
We'll create a customized template with your logo, website colors, etc.
Capture email addresses from your website and add them to your mailing list
Send an email to any new customers providing links to your review sites and asking them to provide feedback
Automatically manage unsubscribe requests and email bouncebacks
Broadcast promotional offers to your mailing list at any time (extra fees apply)
In addition to improving your reputation, getting customer reviews is one of the best ways to improve your search engine rankings!
Review Site Monitoring & Notification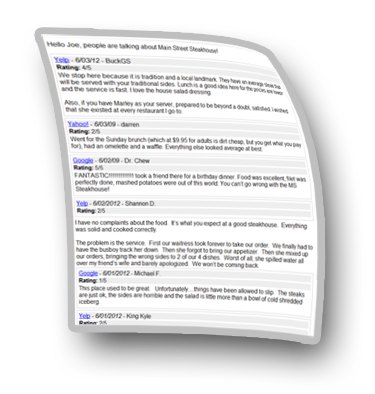 eRepManager makes it easy to keep track of what customers are saying about your business. eRepManager tracks the most popular sites and sends you email alerts when new reviews are posted.
eRepManager also provides you with links to the reviews so you can respond immediately. This will show your customers that you care, making you stand out from your competition and protecting your reputation.
Key Features:
Monitors your listings with Google and Yelp
Receive daily or weekly summaries of any posted reviews
Only receive emails on days/weeks when reviews are written
Includes links to reviews so you can respond immediately
Emails can be sent to multiple email addresses